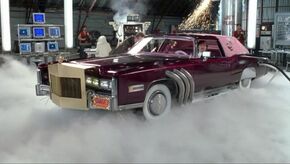 The 1976 Cadillac Eldorado (also known as the Pimp-Mobile) was the second time travel car issued by the Ministry Of Defense and driven by Austin Powers so he would time travel to 1975 to rescue his father Nigel from Goldmember's roller disco Club Studio 69. Austin would press a button on the car to cause it to bounce like a lowrider and activates the time machine to initiate the time travel. The car would be used to escape Studio 69 and would time travel Austin and his new partner FBI Agent Foxxy Cleopatra back to 2002. This is the last we see of the car and it isn't seen throughout the movie. The number plate on this car reads SWINGER3. The car is customed with a gold grill and a Burgundy paint scheme. The rims were silver and the wheels were white. There's even three exhaust tubes on both sides of the car.
Community content is available under
CC-BY-SA
unless otherwise noted.