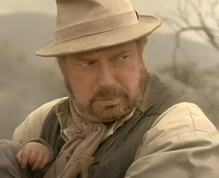 The unnamed "Belgium Man Evil" and his wife Chloe Evil were the adopted parents of Dr. Evil and was responsible for teaching him to be an evil villain. The quick appearance of this character in the third movie in the series was thought to be the only time he'd be on screen. The cancelled game Austin Powers: Smashing! for the Playstation 2 originally had him as a playable character although the decision to cut him out of the game was made to import more FMVs.
History
[
]
The unnamed Belgium man and his wife Chloe found and adopted Douglas Evil when he was an infant. According to Dr. Evil, Belgium man was a boulangerie owner with low-grade narcolepsy who would womanize and drink. He married a 15-year-old French prostitute with webbed feet named Chloe. It is also said by Evil that Belgium man would make outrageous claims like he invented the question mark, and would accuse chestnuts of being lazy. Belgium man and his wife would take their adopted son to Rangoon during summers and get him luge lessons, as well as construct "meat helmets" with him. When his son would misbehave, either Belgium man or his wife would place him in a burlap bag and beat him with reeds.
According to Austin Powers in Goldmember, Belgium man and his wife were responsible of teaching Dr. Evil his evil ways. The way Dr. Evil refers to him in the past tense in the 90s during the events of International Man of Mystery implies that Belgium man is either deceased or had abandoned his adopted son.