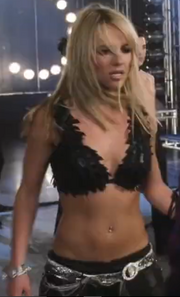 Britney Jean Spears (born December 2, 1981) is an American pop singer, songwriter, dancer, actress, and author. As a celebrity, she has made cameo appearances in the Austin Powers franchise.
Austin Powers
[
]
Spears appeared in Goldmember as herself. During the opening credits, Austin busts in on her during a music video shooting for her song, Boys, and they have a dance off, with she and her male backup dancers against Austin and his female admirers. She engages in a comical slap fight with him and displays many sexy dance moves, singing the song uninterrupted. When she reveals herself as a fembot by sprouting machine gun barrels from her breasts and trying to shoot Austin at the climax of their battle, she reacts with surprise to him catching one of her bullets with his teeth before he works his mojo on her, causing her to malfunction until her head blows up while her dancers run away in fear. Whether she was setting up an elaborate trap to kill Austin by order of Dr. Evil, or was genuinely trying to work and only attacked him in response to his intrusion (and/or due to her inherent fembot programming) is unclear.
She is also seen at the end of Goldmember talking to Mini-Me, asking if she can give him her cell phone number after he whispers into her ear about his "kickstand".
Appearance
[
]
The Britney Spears Fembot had the appearance of a beautiful young woman, with bright, peach-colored skin, light brown eyes complimented by dark eye shadow, long, blonde hair, a slim, curvaceous body, c cup breasts that are spread apart (yet pushed together in one shot), arms with noticeable biceps, long, thick legs, a belly with toned abs and a shapely, prominent butt. Her outfit consisted of black skintight and belted low-rise leather pants reaching down to her knees, several bangles on her right wrist, a black leather cufflet on her left wrist, black, high-heeled leather boots reaching up to her knees, a navel piercing and a dark green and black leather and suede basket weave bra, which left her midriff, her cleavage and most of her back bare. Like all Fembots, she had two silver gun barrels (hers functioning like machine guns) that protruded from her breasts.
Trivia
[
]
Britney Spears was the last fembot to the appear in the series overall.
Britney was the first fembot since the test fembots from the first film to wear a two-piece outfit.
The way Britney is overloaded and destroyed by Austin Powers is similar to the way he defeated the babydoll nightgown fembots in the first film, only with Britney he didn't need to do a striptease.
There is an inconsistency with the Britney fembot's breast size. When she pulls the gun barrels out of her bra, her breasts are larger and squished together. In every other shot, her breasts are smaller and more apart. This is because the close-up was actually of a mannequin replica of Britney's torso with gun barrels built into the breasts.[1]
The real Britney starred in the Boys music video along with Mike Myers in his Austin Powers persona.
Britney also featured alongside Myers' Austin Powers persona in a commercial for Pepsi Twist (a long since discontinued variant of the Pepsi soft drink).
During promotion for Goldmember, Beyonce Knowles revealed that Britney requested the role of a Fembot. According to Beyonce, "She (Britney) said she desperately wanted to be in the movie and wanted to wear a bra that shot bullets. We managed to accommodate her requests".
The Britney fembot's battle with Austin is an homage to the showdown between the Jets and the Sharks in the 1961 film West Side Story.
As revealed in storyboards released on March 5, 2020, the Britney fembot's showdown with Austin Power was going to have more camera movement, such as a 360 spinning motion during the slap fight and a fast downward panning motion for her fembot reveal. The storyboards also depict Britney with a different bra from what she wears in the final film.[2]
The Britney Spears fembot is the only fembot encountered by Austin who did not seduce him by any manner of means (the babydoll nightgown fembots did so with aphrodisiac gas, and Vanessa Kensington convinced him to marry her).
Gallery
[
]