We're Getting Mutants in the MCU - The Loop
Play Sound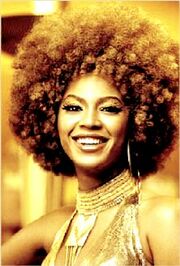 "Well, the future better be ready for me... 'cause I'm Foxxy Cleopatra and I'm a whole lot of woman!" - Foxxy Cleopatra (1975)
Foxxy Cleopatra is a character in Austin Powers in Goldmember.
Foxxy is the former female employee of Goldmember who also was an undercover spy and sidekick to Austin. She decided to go to the future with Austin in order to help defeat Goldmember once and for all. It is implied that she and Austin had a tryst before his cryo-freezing in 1967 as she berated him for standing her up for 8 years and then saying, "Mama only got a taste of honey, but she wanted the whole beehive." Foxxy had been working undercover to stop Goldmember and to avenge the murder of her partner. She followed Austin to the future to continue to fight against Dr. Evil and Goldmember. Along the way, the two reignited their romantic flame and became a couple at the end of the film, sharing a kiss. She was born in the early to mid-1950s.
The bodacious character of Foxxy is a comical amalgam of the Black female sex symbols from the early to mid-1970s.
A mixture of "Blaxploitation" "Motown" or "Soul Cinema" motion pictures and productions. Especially those featuring Pam Grier. The name itself is certainly based on Grier's "Foxy Brown." Another source is "Cleopatra Jones" played by Tamara Dobson. Other elements of Foxxy's character are taken from Grier's characters in the films Coffy and Friday Foster. Teresa Graves' performance in the short-lived crime drama Get Christie Love! Are all combinations of the Foxxy portrayed by Beyonce Knowles. At the time of her portrayal she was better known as being the lead vocalist in the successful 1990s R&B girl group "Destiny's Child", before she chose a solo career shortly after filming the film.
Appearance
[
]
Foxxy is African-American and has a honey blonde Afro hairstyle and pretty brown eyes. She wears very-revealing outfits.
Trivia
[
]
Foxxy is largely based on several "Blaxploitation" characters, such as Foxxy Brown and Cleopatra Jones.
Even though it is heavily implied that she and Austin had shagged in the past, Foxxy is the only woman Austin has been romantically / sexually involved with in the films who is not seen on camera having sex with Austin. He has been seen making love to Vanessa, Alotta, Ivana (though that encounter ended unsatisfactorily due to the theft of Austin's mojo), and Felicity (through Past Austin).
During her and Nigel Powers conversation, it is hinted the two might have had sex during her seperation from Austin. This is further hinted at by Nigel saying she did a "Good job."
It is possible she might have slept with Goldmember like the rest of his girls. She is viewed as working "very closely" with Goldmember for a year and is seen as one of his favorite girls.
She is constantly bested by Goldmember's flexibility.
It appears that she can sing very well.
Foxxy appears to be a capable pugilist, as seen when she knocked out that Japanese Guard from the Roboto's industry, implying that she may have taken boxing at some point.
Many of the fans have ranked each Powers girl in terms of sexual stamina. Within these rankings, Foxxy has consistently ranked as #4 behind Alotta Fagina and Vanessa Kensington.
A cut scene shows Foxxy massage the odorous feet Fat Bastard for information on the Roboto Project.
Even though it is never stated when she was born, it is quite possible that Foxxy was born in 1949, the same year as Pam Grier, the lead of blaxpoitation films, was born.
The name "Cleopatra" in Foxxy's last name comes from an Egyptian princess named Cleopatra.
Gallery
[
]