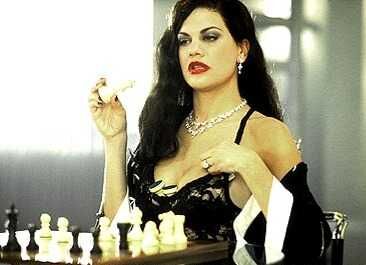 "Da da, darling." - Ivana Humpalot
Ivana Humpalot (Kristen Johnston) is a Russian hitwoman of Dr. Evil wearing a white fur coat and hat around her black-nearly-see through lace bodysuit showing most of her boobies, who appears in Austin Powers: The Spy Who Shagged Me. Her name is also clearly a pun on the phrase "I wanna hump a lot." She is first seen in the background getting prepped up before the photo shoot begins. As Austin ends his flirty conversation with Rebecca Romijn, he turns to Ivana as she observes him. She then introduces herself, but Austin seems to misinterpretate so she starts to get visibly frustrated as her name is being joked with. He then tells them to get into position as the ladies start to sexily swivel their bodies as cameras start to shoot. He makes them do animal type movements such as a "tiger" and then "lemur" movements. Once he asks the girls to dance around like lemurs he joins in between. It is clear Ivana is lost and confused as she's jumping up and down and has to keep eyeing Austin while following his movements. Ivana continuously makes funny looking faces for the rest of the shoot as shes having fun with it. Slightly after it ends she goes to get a cigar break and hears attentively her name being mentioned after Austin rejects Ms. Romijn. He asks her to stay afterwards and she replies by telling him to give her a moment while she takes off her coat and hat and puts on her black silky robe. They are next seen flirting and asks if he knows how they keep warm in Russia, and he makes an innuendo about it being sex and she replies, "chess". They play an erotic game of chess in which she keeps seducing Austin by squeezing her titties together with her forearms or taking out a chess piece out her tits to lick it and happily glancing at Austin. After he copies her in putting a chess piece in her mouth, he chokes on it. She is then asked if he makes her horny and she looks away for a second and he continues to try and get a response from her. Unable to resist the sex appeal of Austin's mojo, she eventually gets up rapidly and confesses to her connection with Dr. Evil, stating he sent her to kill Austin, but she admits he is too sexy for her to kill and asks if he would make love to her in bed. After laying herself sexually on top of his bed, Austin then approaches her and rips off his shirt, making Ivana scream in aroused excitement at his chest hair, comparing him to an animal due to his hairy chest. She then drags him upon her to commence sexual activity. Unfortunately, shortly after they begin to shag, Austin realizes his mojo has been stolen, rendering him impotent before he could satisfy Ivana Humpalot, leaving her unable to achieve orgasm. This, theoretically, would make Ms. Humpalot the only woman Austin was ever unable to sexually satisfy. Their tryst ends with Ivana in shock that Austin Powers, the world's greatest lover, has suddenly been afflicted with erectile dysfunction as she looks down and gasps in dismay at Austin's crotch.
Foreign Language Versions
Czech: Radana Chuja (Ráda na chuje (She) likes on cock).
Dutch: Kwil Vanbilski (Ik wil van bil, I want to have sex).
French (France): Jorevka Tumbezaski ("Je reve que tu me baise a skis", I dream that you fuck me on skis).
French (Canada): Elmor Susafon ("Elle mord, suce à fond", She bites, suck till end).
German: Annette Halbestunde (Eine nette halbe Stunde, a nice half an hour).
Hungarian: Jovonna Dugogatni (Jó volna dugogatni, screwing would be nice).

Italian: Ivona Pompilova (pompino, oral sex).
Portuguese (Brazil): Ivana Kertrepar (quer trepar, want to have sex).
Spanish: María Unpajote (Me haría un pajote, I would masturbate).