(33 intermediate revisions by one other user not shown)
Line 1:
Line 1:
 
+

{{w:adoption}}

 

<!-- -------------------- BEGINNING OF HEADER SECTION -------------------- -->

 

<!-- -------------------- BEGINNING OF HEADER SECTION -------------------- -->

 
+

[[image:apwiki.png]]

−

{|style="width:120%; background-color:#fcfcfc; border:1px solid #ccc; text-align:center"

+

{|style="width:%; background-color:#; border:1px solid #ccc; text-align:center"

 

|

 

|

−

<span class="nounderlinelink" style="font-size:162%">[[Image:AustinPowerswikilogo.png|left]]<br/>Welcome to '''[[Project:About|{{SITENAME}}]].''' <br /></span><br />

+

<span class="nounderlinelink" style="font-size:162%">Welcome to '''[[Project:About|{{SITENAME}}]].''' <br /></span><br />

−

<span style="font-size:95%">A '''''[[Austin Powers]]'' encyclopedia''' that anyone can edit <br/>We are [[Special:Recentchanges|currently editing]] over [[Special:Statistics|{{NUMBEROFARTICLES}}]] articles, and '''[[Project:Community Portal|you can help]]'''

+

<span style="font-size:95%"> '''''[[Austin Powers]]'' encyclopedia''' that anyone can edit <br/>We are [[Special:Recentchanges|currently editing]] over [[Special:Statistics|{{NUMBEROFARTICLES}}]] articles, and '''[[Project:Community Portal|you can help]]'''

 
 
 

[[Special:Allpages|Articles]] | [[Special:Newpages|New pages]] | [[Special:Popularpages|Popular pages]] | [[Special:Categories|Categories]] | [[Wikia:Help:Tutorial|Wiki tutorial]] | [[Project:Policies| Policies]] |[[Wikia:Category:Help| Help Pages]] |

 

[[Special:Allpages|Articles]] | [[Special:Newpages|New pages]] | [[Special:Popularpages|Popular pages]] | [[Special:Categories|Categories]] | [[Wikia:Help:Tutorial|Wiki tutorial]] | [[Project:Policies| Policies]] |[[Wikia:Category:Help| Help Pages]] |

−

[[Current events]]

+

[[Current events]]

 
+

[[Austin Powers:Delegate Committee|DelCom]] |

 
+

[[User:Dr.Evil/Proposed polcies|Proposals]]

 

<br />

 

<br />

 

'''Warning: This wiki contains spoilers. Read at your own risk.'''

 

'''Warning: This wiki contains spoilers. Read at your own risk.'''

Line 12:
Line 16:
 
 
 

{| align="center"

 

{| align="center"

−

|- valign="top" width="100%; style="text-align:center;margin:0px -10px 0px -10px; font-variant: small-caps;"

+

|- valign="top" width="%; style="text-align:center;margin:0px -10px 0px -10px; font-variant: small-caps;"

 

| colspan="2" |

 

| colspan="2" |

 

|- valign="top" cellpadding="0px" cellspacing="0px" width="100%"

 

|- valign="top" cellpadding="0px" cellspacing="0px" width="100%"

 

|style="width:50%; padding: .5em; border: 1px solid #c9c9ff; color: #000; background-color: #f3f3ff;"|

 

|style="width:50%; padding: .5em; border: 1px solid #c9c9ff; color: #000; background-color: #f3f3ff;"|

 
 
−

=== [[Project:About|Austin Powers Wiki]] ===

+

=[[Project:About|Austin Powers Wiki]]

 

This Wiki has a mission to let its visitors know everything about Austin Powers. In the future, we will have articles about everyting Austin Powers-related.

 

This Wiki has a mission to let its visitors know everything about Austin Powers. In the future, we will have articles about everyting Austin Powers-related.

 
 
 

To write a new Austin Powers Wiki article, enter the page title in the box below.

 

To write a new Austin Powers Wiki article, enter the page title in the box below.

 
+

<createbox>

−
 
 
+

</createbox>

−

<inputbox>

 
−

type=create

 
−

</inputbox>

 
−
 
−
 
 
 
 

| style="padding: .3em .7em .4em; border: 1px solid #b9ffb9; color: #000; background-color: #f3fff3"|

 

| style="padding: .3em .7em .4em; border: 1px solid #b9ffb9; color: #000; background-color: #f3fff3"|

 
 
−

===Groovy Pic of the Week===

+

=Groovy Pic of the Week

−

[[Image:apowers.jpg|center|thumb|Austin Powers in International Man of Mystery]]

+

[[Image:.jpg|center|thumb| ]]

−

=== Milestones ===

 
−

* [[User:No. 2]] becomes a sysop

 
−

* We currently reached 14 articles.

 
−

* [[User:65.11.48.211]] gets blocked for 18 hours, the first ever block on this wiki.

 
−

* [[User:Goldmember]] becomes a sysop

 
−

* This wiki is made

 
 

|}

 

|}

 
+

{| align="center"

 
+

|- valign="top" width="100%; style="text-align:center;margin:0px -10px 0px -10px; font-variant: small-caps;"

 
+

| colspan="2" |

 
+

|- valign="top" cellpadding="0px" cellspacing="0px" width="100%"

 
+

|style="width:50%; padding: .5em; border: 1px solid #CCCCCC; color: #000; background-color: #F9F9F9"|

 
+
 
+

<span style="font-size:135%">'''Improvement Article Drive'''</span><br>

 
+

This week's improvement drive:

 
 
 
+

<div align="center">'''[[Swinging]]'''</div>

 
 
 
+

<hr />

−

<!-- Please note that Wikia protection policy advises against the protection of this page -->

 
 
+

''The I.A. Drive is where the members of the Austin Powers Wiki help to make a Article better. To nominate a article please talk in the [http://austinpowers.wikia.com/wiki/Talk:Main_Page Main Page Talk page.]''

−

__NOTOC__

 
 
 
 
+

| style="padding: .3em .7em .4em; border: 1px solid #CCCCCC; color: #000; background-color: #F9F9F9"|

 
+

<span style="font-size:135%">'''Milestones '''</span>

 
+

{{milestones}}

 
+

==Recommended Wikia projects==

 
+

'''[[w:c:aceventura:Main_Page|Ace Ventura Wiki]]''' •

 
+

'''[[w:c:waynesworld:Main_Page|Wayne's World Wiki]]''' • '''[[w:c:dumbanddumber:Main_Page|Dumb & Dumber Wiki]]''' •

 

[[Category:Austin Powers| ]]

 

[[Category:Austin Powers| ]]
---
Latest revision as of 06:39, 23 December 2019
This Fandom wiki is currently inactive. You can
adopt this wiki
and revive it.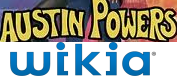 Austin Powers Wiki
This Wiki has a mission to let its visitors know everything about Austin Powers. In the future, we will have articles about everyting Austin Powers-related.

To write a new Austin Powers Wiki article, enter the page title in the box below. <createbox> </createbox>

Groovy Pic of the Week
Improvement Article Drive
This week's improvement drive:

---

The I.A. Drive is where the members of the Austin Powers Wiki help to make a Article better. To nominate a article please talk in the Main Page Talk page.

Milestones

DelCom decision No. 2 is now open
Logo sucessfully uploaded!
We bump down to 8 articles due to pages in the wrong namespace and deletion of unesscary pages.
No. 2 becomes a bureaucrat.

---




Recommended Wikia projects

Ace Ventura Wiki • Wayne's World Wiki • Dumb & Dumber Wiki •
Community content is available under
CC-BY-SA
unless otherwise noted.