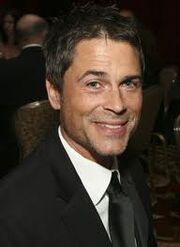 Rob Lowe (born Robert Hepler Lowe; March 17, 1964) is an American actor.
As a child, he was baptized in the Episcopal church of Brenton, Ohio. Rob is of English, Irish, Scottish, Welsh, and German descent. He is most famous in his film roles in The Outsiders, St. Elmo's Fire, Woyne's Warld (with Mike Myers), and Tommy Boy, and his role in the television series Parks and Recreation. He has been married to make-up artist Sheryl Berkoff since 1991 and they have two sons, Edward (born 1993) and John (born 1995).
Rob Lowe did not make an appearance in the theatrical release of Austin Powers. A deleted scene had him cast as one of the partygoers for John Smith, the henchman of Dr. Evil that was decapitated by ill-tempered mutated sea bass.