Nooooo!
-Security Guard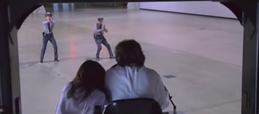 Steamroller Henchman (Steve) was (played by Michael McDonald) a Villainous Character in Austin Powers International Man of Mystery. When Austin and Vanessa Kensington are in the Victucon Truck, and he was squashed by Austin and Vanessa and an extra Deleted Scene was called The Henchman's Wife.
In the steamroller facility, when Austin and Vanessa are fleeing the guards on a slow steamroller, this guard appears in front, and when he does not see a path of escape, he screamed NO three times before being crushed to death. A deleted scene shows his wife and stepson Billy mourning his death.
Community content is available under
CC-BY-SA
unless otherwise noted.