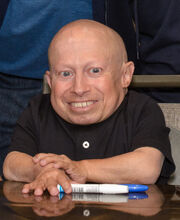 Vernon Jay "Verne'" Troyer (January 1, 1969 – April 21, 2018) was an American actor, stunt man, and comedian, best known for his role as Mini-Me in the Austin Powers franchise. He had appeared in several films, mostly in non-speaking roles. Troyer stood 81 centimeters (2 feet, 8 inches) tall, making him the shortest actor in the trade.
Troyer grew up in Centreville, Michigan and graduated from Centreville High School in 1987. Later, he gave his name to the Verne Troyer festival, held in his hometown of Centreville. His mother Susan was a factory worker and his father Reuben was a repair technician. He had two elder siblings named Davon and Deborah who were both averaged-size.
Prior to his stardom, he was employed by Sprint Nextel Corporation at their Texas facility as an inside wiring technician reporting to customer service. He had turned it down to play a stunt double role in Baby's Day Out.
Troyer's most famous role was Mini-Me in the Austin Powers franchise, a silent character who was originally supposed to be a miniature clone of Dr. Evil. He also portrayed Griphook in Harry Potter and the Philosopher's Stone (albeit voiced by Warwick Davis), one of only four non-British actors (the others were Richard Harris, Eleanor Columbus, and Zoë Wanamaker). Other notable roles include a band member in How the Grinch Stole Christmas and the small waiter in Fear and Loathing in Las Vegas. He was a series regular on Shasta McNasty.
During an interview, he said at school, a kid 2 years younger than him said something offensive which made Troyer jump up and punch him in the nose.
Troyer appeared as himself in an Apple Computer television commercial for its 12-inch and 17-inch PowerBook G4 notebook computers in which he used the larger computer and Yao Ming used the smaller one.
He was married to Genevieve Gallen. On February 23, 2004, Troyer filed for annulment on the grounds of "unsound mind" and "fraud", even though he also claimed the couple were never married.
Troyer also appeared on VH1's fourth season of The Surreal Life with Da Brat, Joanie Laurer, Jane Wiedlin, Christopher Knight, Adrianne Curry, and Marcus Schenkenberg. Troyer's part on the series received much media attention when he became inebriated and urinated on the carpet.
In 2005, he was featured in the video for "Number One Spot."
On Christmas Eve 2005, he made an appearance alongside various other Hollywood celebrities on Avid Merrion's XXXmas Special.
Troyer was a fixture at parties at the Playboy Mansion and often appeared in photos with other celebrities and beautiful women in the Playboy party pictures section found at the beginning of the magazine.
In early May 2015, he started his own YouTube channel with daily vlogs, cooking videos, skits, etc. In late March 2018, he uploaded his final video called "MY PET PEEVES!".
In early April 2018, Troyer was admitted to a hospital after an incident in his home. He had previously been admitted to rehab to undergo treatment for alcoholism.
On April 21, 2018, Troyer died in a hospital in Los Angeles, California at the age of 49. No cause of death was immediately released. His death was reported as a possible suicide to the coroner, who found very high alcohol levels in his body, suggesting and later confirming alcohol poisoning as the cause. His death was later ruled a suicide.
Filmography
[
]
Baby's Day Out (1994) - Baby Bink Double
Saban's Masked Rider (1995) - Ferbus (Suit Actor)
Pinocchio's Revenge (1996) - Pinocchio Double
Men in Black (1997) - Alien Son
Wishmaster (1997) - Creature Stage #1
My Giant (1998) (uncredited) - Wrestler
Fear and Loathing in Las Vegas (1998) (as Verne J. Troya) - Wee Waiter
The Wacky Adventures of Ronald McDonald: Scared Silly (1998) - Sundae
Mighty Joe Young (1998) (uncredited) - Baby Joe
Here Lies Lonely (1999) - Virgil
Instinct (1999) - Gorilla Performer
Shasta McNasty (1999) TV Series - Verne Valentine (1999-2000)
Mission: Imp (2000) - Ethan Runt
Bit Players (2000) - Marty Rosenthal
How the Grinch Stole Christmas (2000) (as Verne J. Troyer) - Band Member
Jack of All Trades (2000) TV Series - Emperor Napoléon Bonaparte (2000)
Bubble Boy (2001) - Dr. Phreak
Harry Potter and the Philosopher's Stone (2001) (as Vern Troyer) - Griphook
Hard Cash (2002) (as Vern Troyer) - Attila
Austin Powers in Goldmember (2002) - Mini-Me
Karroll's Christmas (2004) (TV) - Spike
The Love Guru (2008) - Coach Punch Cherkov
The Imaginarium of Doctor Parnassus (2009) - Percy
The 420 Movie: Mary & Jane (2014) - Tito the Terrible
Legend (2014) - The Gnome
External links
[
]